MFD - INTERACTABLE MULTI-FUNCTION DISPLAY
A downloadable asset pack
A Realistic and High-Fidelity Fully Operational and user-customizable Aircraft MFD.
Instruments data is Automatically calculated by the script using just a reference to your aircraft's Transform.
Navigate through the menu, instrument tabs, configurations, and Flight Data. Design based on real instruments. (Full Source Code Included!)

Includes a GPS Map, Satellite View, Primary Flight Display (with all the essential flight instruments), Engine Data, Fuel Consumption, Flaps position, Landing Gear and a prefab for 3D Cockpits, HUD mode or Default GUI. Also includes a Mini-Template for a GameMenu using the MFD UI.

Check out all possibilities and interactivity in the video!
It includes:

- Airspeed, Altitude, Artificial Horizon (pitch and bank angles), Compass Heading, Turn Coordinator, Angle of Attack, Angle of Slip, Vertical Velocity, Horizontal Velocity, Engine RPM, Temperature, Fuel, Fuel Flow (variable consumption depending on engine rpm) and G-Force (current, max, and min).
- Adjustable Off-Set and Scaling factor to each instrument value to enable unity conversion or tweaking display. Makes it suitable both for precision Simulations or Arcade with an extra touch.
- Configurable LowPassFilter factor to adjust between smooth reading or instant values.
- Customizable GPS Map image with Zoom and 2 operating modes.
- Texts use a Real Aeronautical Font created specifically for aviation purposes.
- Realistic Sounds and Engine Pitch synchronized with RPM.
- Includes a mini Sound Manager and a Console Display that shows small warning or informative messages on any MFD.
- It comes with a simple Camera movement script that emulates an Aircraft for proper testing the instruments, but the asset works with any flight asset.
- PDF Documentation with a detailed description of the Asset's structure and Script.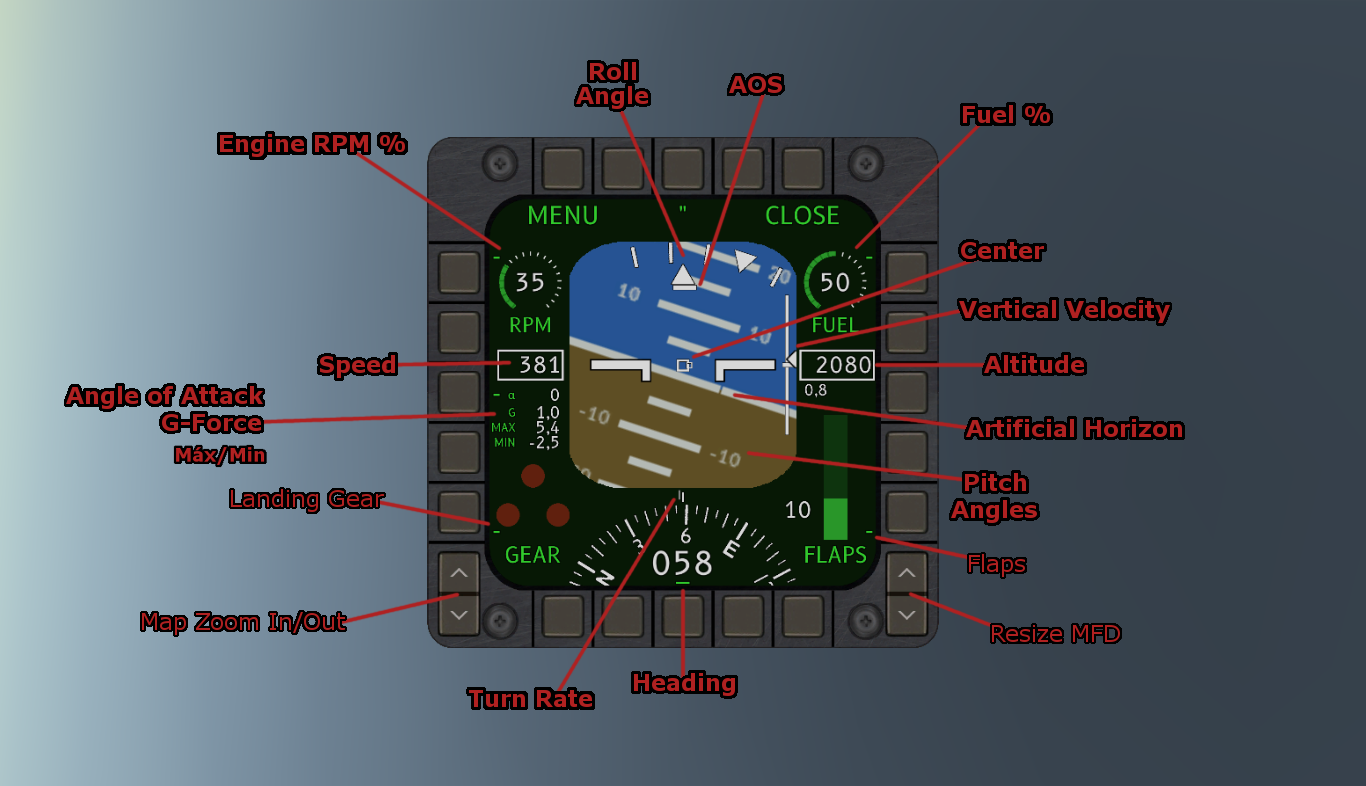 Purchase
In order to download this asset pack you must purchase it at or above the minimum price of $5 USD. You will get access to the following files:
MFD_Unity2018_1.0.191011.unitypackage
26 MB
MFD_Unity5.5_1.0.191011.unitypackage
28 MB
Download demo